Glenn Sartori is a lifelong resident of St. Louis, Missouri and graduated from St. Louis University with BS and MS in Electrical Engineering. In 1992 he married Rosanne and they enjoy condo living in St. Louis County. He has two sons Michael and Jeffrey, both grown, live in different cities and have a family of their own.
He earned a Certificate in Creative Writing from Thomson Direct, has been a member of the St. Louis Writer's Guild since 2009 and a member of the American Society for Engineering Education since 2004.
In late 2002, Glenn started his second career with his college friend and has co-authored four engineering text books for Pearson Education Publishing Company. Glenn successfully transitioned to writing mystery novels and most recently the final book of his memoir trilogy, all published by Prince and Pauper Press.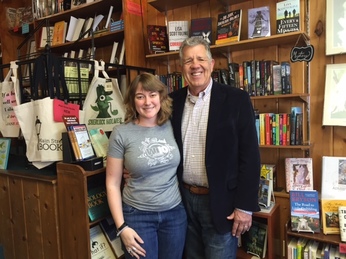 In St. Charles, MO, at Main Street Books with owner Emily Hall, April 2016. My books are available for purchase at her bookstore. Please support Independent Bookselle
rs.